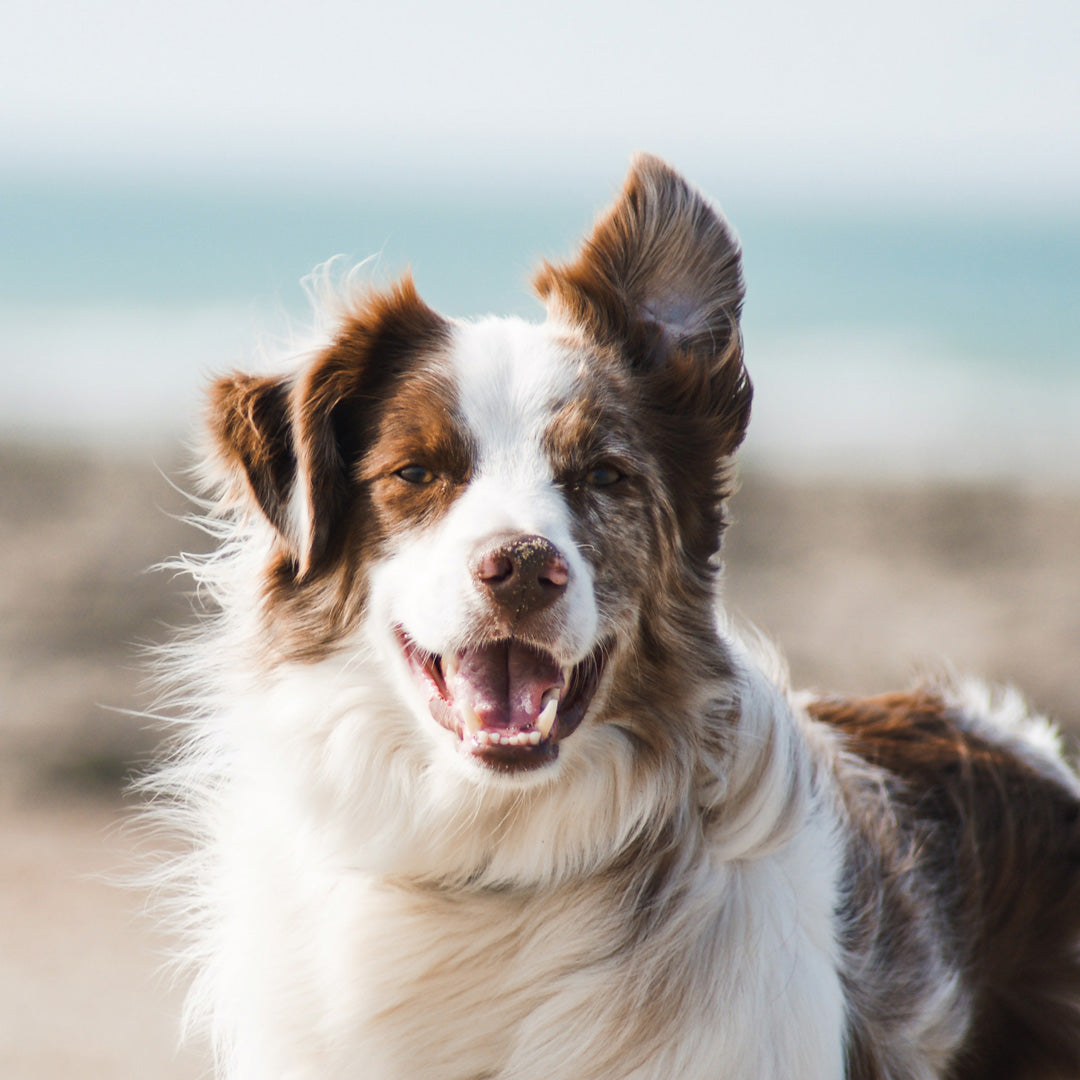 De voordelen van Oregano
Als je nog nooit van oregano-olie hebt gehoord, mis je iets. Het kan helpen bij het bestrijden van enkele van de meest voorkomende gezondheidsproblemen bij honden, waaronder oorinfecties en schimmelinfecties, het kan het zonder de schadelijke bijwerkingen van conventionele antibiotica en antischimmelmiddelen.
Doodt Bacteriën
Oregano's claim to fame is dat het een natuurlijk antibioticum is. Dit is te danken aan de carvacrol die het bevat. Carvacrol is een organische verbinding die bekend staat als een fenol, die oregano zijn smaak en aroma geeft. Hoewel er veel fenolen in oregano-olie zitten, is carvacrol de meest voorkomende. Het wordt ook gevonden in etherische olie van oregano.

Studies tonen aan dat carvacrol de groei van veel verschillende bacteriën kan stoppen. Dat omvat MRSA (Methicilline-resistente Staphylococcus aureus), die stafylokokbesmetting veroorzaakt. Olie van oregano kan zelfs werken voor antibioticaresistente bacteriën zoals E coli en Pseudomonas aeruginosa. (P aeruginosa is een veelvoorkomende oorzaak van oorontstekingen, waarover u straks meer zult leren).

In combinatie met kaneelschors is etherische olie van oregano nog effectiever. In één onderzoek heeft de combinatie de bacterie die de ziekte van Lyme veroorzaakt (B burgdorferi) volledig uitgeroeid.
Oor- en huidproblemen
Je weet al dat oregano-olie kan helpen bij het doden van micro-organismen die verantwoordelijk zijn voor veel huid- en oorinfecties. En dat komt omdat het zowel een antischimmel als een antibioticum is.

In één onderzoek werd zelfs gekeken naar de effectiviteit van essentiële oliën van oregano en tijm voor oorinfecties. Ze testten de combinatie op 100 bacteriën en schimmels geassocieerd met oorinfecties bij honden. In vitro was de combinatie zo effectief dat het zelfs zeer resistente bacteriën en schimmels doodde.
Verhoogt antioxidanten
Carvacrol is niet alleen een antibioticum, het is ook een van de drie belangrijkste antioxidanten die in oregano worden aangetroffen. De andere twee zijn thymol en rozemarijnzuur.

Van de 39 veelgebruikte kruiden (culinair en medicinaal) had oregano de hoogste concentratie antioxidanten. En gram voor gram heeft het 4x meer antioxidanten dan bosbessen en 42x meer dan appels.


Bestrijdt schimmelinfecties
Gistovergroei is een belangrijke oorzaak van oorinfecties bij honden en kan ook huid- en darmproblemen veroorzaken. Conventionele dierenartsen zullen schimmeldodende medicijnen voorschrijven. Het probleem is dat deze medicijnen schadelijke bijwerkingen hebben en dat gist er resistentie tegen kan opbouwen.

Oregano olie is een natuurlijke gistbestrijder dankzij carvacrol en thymol, een natuurlijk antischimmelmiddel. Studies bij honden tonen aan dat het zelfs een effectieve alternatieve behandeling kan zijn voor conventionele medicijnen.

In één onderzoek was oregano-etherische olie effectief tegen 5 verschillende soorten Candida-gist. En een ander toonde aan dat carvacrol zelfs kan helpen bij het bestrijden van orale candida.


Verbetert de darmgezondheid
Eerder leerde je dat olie van oregano E coli en andere schadelijke bacteriën kan doden. Dit alleen al helpt de darmgezondheid van uw hond te verbeteren. Maar olie van oregano kan zoveel meer.

Lekkende darm wordt een epidemie bij honden. Het gebeurt wanneer de darmwand van de darm van uw hond beschadigd raakt en vreemde stoffen in de bloedbaan van uw hond laten lekken. Dit omvat voedseldeeltjes, bacteriën, virussen en andere microben. Na verloop van tijd kunnen deze indringers voedselallergieën, ontstekingen en chronische ziekten veroorzaken.

Essentiële olie van oregano kan een lekkende darm helpen verbeteren door de darmwand van uw hond te versterken. Dit voorkomt dat indringers in de bloedbaan van uw hond lekken. Carvacrol heeft ook eigenschappen tegen maagzweren die de darmgezondheid helpen verbeteren.


Helpt bij het bestrijden van parasieten
Olie van oregano kan ook helpen bij het bestrijden van parasieten. In een onderzoek van 6 weken verminderde 600 mg oregano-olie parasieten bij menselijke deelnemers. 77% van de deelnemers was volledig genezen. Het is ook effectief voor Giardia en als ontwormingsmiddel.

Essentiële olie van oregano kan ook helpen bij ringworm vanwege de schimmelwerende eigenschappen. Ringworm is een schimmelinfectie op de huid veroorzaakt door schimmelachtige parasieten. (Dezelfde schimmelwerende eigenschappen kunnen ook helpen bij het bestrijden van dalkoorts.)
Paddock C. Himalayan oregano effective against MRSA. Medical News Today. 24 Nov 2008. 
Preuss HG et al. Effects of essential oils and monolaurin on staphylococcus aureus: In vitro and in vivo studies. Toxicol Mech Methods. 2005;15(4):279-85. 
Sienkiewicz M et al. The antibacterial activity of oregano essential oil (Origanum heracleoticum L.) against clinical strains of escherichia coli and pseudomonas aeruginosa. Med Dosw Mikrobiol. 2012;64(4):297-307. 
Man A, Santacroce L, Jacob R, Mare A, Man L. Antimicrobial activity of six essential oils against a group of human pathogens: A comparative Study [published correction appears in Pathogens. Pathogens. 2019;8(1):15. 
Feng J, Zhang S, Shi W, Zubcevik N, Miklossy J, Zhang Y. Selective essential oils from spice or culinary herbs have high activity against stationary phase and biofilm borrelia burgdorferi. Front Med (Lausanne). 2017;4:169. 
Llana-Ruiz-Cabello M, Gutiérrez-Praena D, Puerto M, Pichardo S, Jos Á, Cameán AM. In vitro pro-oxidant/antioxidant role of carvacrol, thymol and their mixture in the intestinal Caco-2 cell line. Toxicol In Vitro. 2015 Jun;29(4):647-56.
Zheng W, Wang SY. Antioxidant activity and phenolic compounds in selected herbs. J Agric Food Chem. 2001 Nov;49(11):5165-70. 
Pozzatti P, Scheid LA, Spader TB, Atayde ML, Santurio JM, Alves SH. In vitro activity of essential oils extracted from plants used as spices against fluconazole-resistant and fluconazole-susceptible Candida spp. Can J Microbiol. 2008 Nov;54(11):950-6. 
Marcos-Arias C, Eraso E, Madariaga L, Quindós G. In vitro activities of natural products against oral Candida isolates from denture wearers. BMC Complement Altern Med. 2011 Nov 26;11:119. 
Cleff MB, Meinerz AR, Xavier M, et al. In vitro activity of origanum vulgare essential oil against candida species. Braz J Microbiol. 2010;41(1):116-123. 
Force M, Sparks WS, Ronzio RA. Inhibition of enteric parasites by emulsified oil of oregano in vivo. Phytother Res. 2000 May;14(3):213-4. 
Zou Y, Xiang Q, Wang J, Peng J, Wei H. Oregano essential oil improves intestinal morphology and expression of tight junction proteins associated with modulation of selected intestinal bacteria and immune status in a pig model. Biomed Res Int. 2016;2016:5436738. 
Bukovská A, Cikos S, Juhás S, Il'ková G, Rehák P, Koppel J. Effects of a combination of thyme and oregano essential oils on TNBS-induced colitis in mice. Mediators Inflamm. 2007;2007:23296. 
Study shows oregano essential oil's ability to reduce parasite infectivity. Food Science & Human Nutrition. 2018. 
Ponce-Macotela M, Rufino-González Y, González-Maciel A, Reynoso-Robles R, Martínez-Gordillo MN. Oregano (Lippia spp.) kills Giardia intestinalis trophozoites in vitro: antigiardiasic activity and ultrastructural damage. Parasitol Res. 2006 May;98(6):557-60. 
Jung CY, Kim SY, Lee C. Carvacrol targets AXL to inhibit cell proliferation and migration in non-small cell lung cancer cells. Anticancer Res. 2018 Jan;38(1):279-286. 
Yin QH, Yan FX, Zu XY, et al. Anti-proliferative and pro-apoptotic effect of carvacrol on human hepatocellular carcinoma cell line HepG-2. Cytotechnology. 2012;64(1):43-51. 
Arunasree KM. Anti-proliferative effects of carvacrol on a human metastatic breast cancer cell line, MDA-MB 231. Phytomedicine. 2010 Jul;17(8-9):581-8. 
Sim J et al. Antimicrobial activity of thyme oil, oregano oil, thymol and carvacrol against sensitive and resistant microbial isolates from dogs with otitis externa. Veterinary Dermatology. Sep 2019. 
---
Older Post
Waarom zijn bijen zo belangrijk?